What heritage did Madame Desbassayns leave in 1846 ?
The last will and testament of Marie Anne Thérèse Ombline Gonneau de Montbrun, widow of Henri Paulin Panon Desbassayns, is known to us. The inventory drawn up after her death, a key document giving information about her lifestyle, has not yet been exploited.
It was drawn up as from 23rd of March 1846 by the notary Léo de Lanux on the family estates of Saint-Paul, Saint-Gilles and Bernica. The present article, based on a thorough study of the proceedings, deals with the inventory carried out on the Saint-Gilles estate. It does not treat the totality of her belongings, notably as regards articles of clothing, since Madame Desbassayns had already shared out a large number of these on 20th June 1845. The record of the auction of her furniture and other movables makes up for this omission.
The total value of her property amounted to 53,191.33 Francs. The property she possessed at Saint-Gilles, valued at 46,374.33 Francs, represented 87% of the total.
Silverware represented an impressive section of the inventory, in terms of monetary value and prestige. It was of the finest quality and estimated at 160 Francs per kilo. Soup tureens, pans, hot-plates, round or oval serving-dishes, coffee-pots, bandège (basins) , sugar bowls, salt-pots, salad-bowls, mustard-pots, but also chandeliers, filigree cutlery engraved with the initials MD, dessert cutlery, soup spoons, stew spoons, coffee spoons, sugar spoons, salt spoons, mustard spoons, skewers, large and small pans, kettles and girandoles (branched candlesticks) , together made up 122kg of metal worth 19,825.40 F, 43% of the value of the articles of the Saint-Gilles estate. Two soup tureens with their respective dishes weighed over 9 kilos, six coffee pots of various sizes weighed 4,900 g.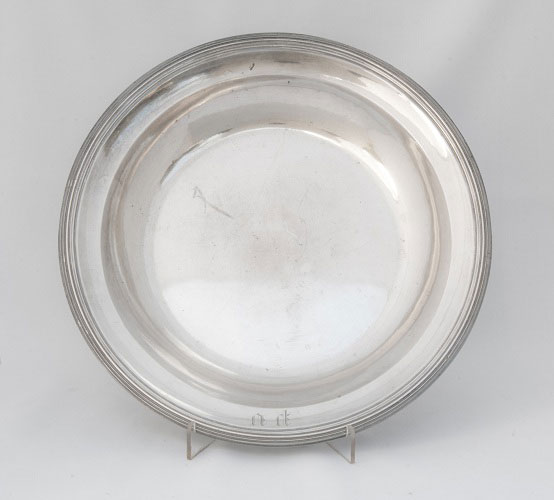 Most of the silver objects were tableware. Special-purpose cutlery and silver pots and pans: everything contributed to refined dining habits. A means of accumulating wealth, silverware was a symbol of social distinction, elements sought-after by wealthy owners and even by more modest inhabitants.
Affectation did not exclude the use of more ordinary, very diverse, sets of tableware, stored in various locations on the estate. The materials used are often mentioned: porcelain, from China or Japan, as well as pipe-clay. The list is edifying.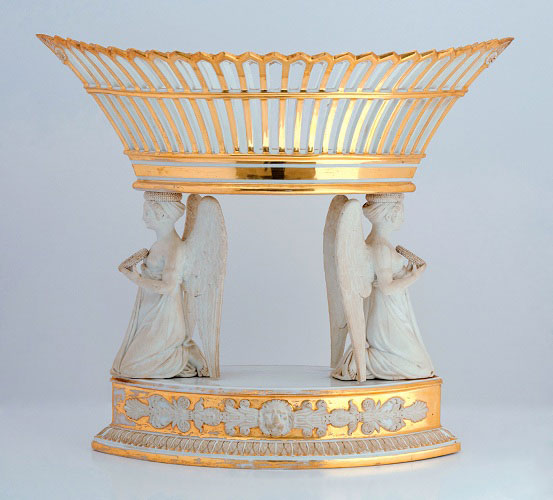 Bottle-trays, bread-baskets, silver-plated teapots, a gilt-edged white china crockery set bearing the initials MD and consisting of dinner plates, soup-plates, dessert plates, sugar-bowls, leaf-shaped dishes, salad-bowls, egg-cups, butter-dishes, coffee cups and saucers, soup tureens, long, oval and round serving dishes, olive-dishes, hachardiers (chutney dishes) , sauce-boats, mustard-pots, fruit bowls, milk bowls with saucers, tea bowls, glass tumblers for cream, small pots and their side-table, Oriental coffee pots , oil flasks. In addition, there were cream-pots, water-pots, basins, milk-pots, serving dishes with lids, vases, water goblets and stemmed glasses, blue pails, decanters, stemmed wine-glasses, champagne glasses, liqueur glasses, large serving-dishes (communs), gargoulettes (cooling-jugs) , ice-cream dishes, potiches (pitchers) , tin bowls and trays, cases of knives with hollow handles in crafted silver or in ivory, dessert knives, a slicing set, a fountain and its basin and a teapot. Also, a gilded china basket bearing the initials MD, stemmed gondolas, salt pots, a cheese cover with its plate, ebony oil and vinegar stands with their cruets, a liqueur stand with its flasks and glasses.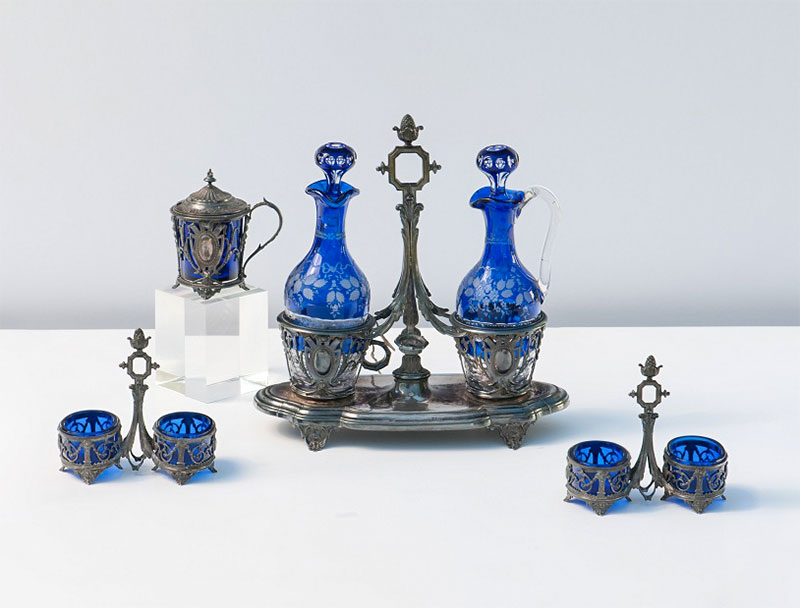 All this tableware would not have been out of place in a mid-19th century bourgeois French home. There were no table forks . With the exception of the 'chutney-dish' and a few exotic items, if everything was synonymous with French culinary tastes, we can suppose that French and Creole recipes were both customary.
The notary visited the room opposite the stairs on the first floor and continued to the first bedroom, before proceeding to visit the adjoining room that opened out onto the veranda on the east side of the house. He visited the latter, went into the room opposite, into the 'adjoining' bedroom, then into another one next to it, with a door leading out to the stairs. After coming out onto the front veranda on the west side, he went into the sitting-room, then into the room where the crockery was displayed.
Leaving the main house, De Lanux visited the outbuildings, then came back in to describe a room adjoining the dining room, then back out to make an inventory of the contents of the other buildings.
Les édifices secondaires comprennent :
– The outbuildings included:
– A construction to the north-east of the main mansion, divided up into a main room, a smaller room, a bedroom to the east, an attic;
– A store-room behind the construction;
– Another store-room, behind the kitchen;
– Two others, respectively to the north-east and south-west of the main mansion;
– A large construction to the south of the main mansion, containing a bedroom;
– A store-room used as a cellar;
– The kitchen;
– A stock-room, three store-rooms, one referred to as 'carrosse' (carriage), the other as 'l'horloge' (clock);
– A stable
– A poultry house
– A lodge occupied by Monsieur Nion .
The layout of estates always accommodated constructions enabling the owner to live 'off his land' and harvest his crops.
The poultry house contained various poultry (chickens, ducks, turkeys and geese). Running free in the yard were tortoises and 31 pigs. The stable housed mules from Buenos-Aires and Poitou (France), a mule of local origin, a female donkey and her foal.
The store-rooms were used for stocking the cereal used to feed the slaves (maize), as well as cash crops, and were depositories to stock, notably, products for everyday consumption, amongst which wine was very important. No mention was made of arack (rum). There were large numbers of containers of various types, such as empty bottles, preciously conserved for reuse.
In the storeroom behind the lodge were stored various containers (jars, copper basins, vases), 22 bottles of Madera wine, 48 empty bottles and a fish-kettle. There was also 'a whole lot of clutter', not deemed worthy of the expert's attention. This was also the case of the store-room behind the kitchen, where were stocked bottles of green honey, sherry, Malaga wine, empty bottles, glassware and basins. Also to be found there were a theodolite and a compass with its stand , 21 cloth cuttings for handkerchiefs (intended to be cut up) and 36 finished handkerchiefs. For the latter, we can only regret the succinct nature of the inventory, when we know that many of the records of this type drawn up on Reunion island in the 19th century give description of head kerchiefs, collar kerchiefs, pocket kerchiefs, hand kerchiefs, neck kerchiefs; we can find descriptions of embroidered handkerchiefs, chequered handkerchiefs, Machilipatnam handkerchiefs, silk handkerchiefs, Pulicat handkerchiefs, handkerchiefs manufactured in India, Rouen or Chollet, fancy handkerchiefs, 'tie kerchiefs' and 'scarf kerchiefs'. In the attic of the store-room on the north-eastern side of the main mansion were stored 76 sacks of cotton, weighing a total of 1.456 tonnes. In the one on the south-west, seven bundles of sugar, weighing a total of 437.5 kilos.
The 'store-room used as a cellar' contained empty bottles and phials, 10 bottles of champagne, bottles of beer, of Porter, aged white wine and 10 bottles of pickled fruit. There was also a pile of small cooking pots, eight water-jars, empty vases and barbots (large jars) , a new pair of lamps, 23 barrels of coal, weighing a total of 2,800 kg and 13 camel water-skins.
The other store-rooms were spacious, the first housing almost 47.5 tonnes of maize, the second 26 bundles of coffee (each bundle worth 65 Francs) and the last one containing 202 of low-quality sugar weighing 12.6 tonnes. The outhouse was used to store vehicles: carriages in good or bad condition, as well as a cabriolet (light, single-horse carriage).
As for the kitchen, separated from the mansion, its layout was not described (the fireplace? the stove?). The cooking equipment consisted of 16 pots, three saucepans, two of copper and one of iron, three frying pans, a grill, two waffle irons, one spit and its andirons, two cake tins, two marble mortars, used for preparing ingredients and a set of scales with its weights.
The cabinets or rooms (in French 'cabinets', a rather vague term), were to be found both in the main house (five in number) as well as in the other buildings. Their purpose was reflected in the furniture contained in each. The crockery-room next to the sitting room was an annex of the latter. It contained a dresser and two small tables.
The cabinet opposite the staircase on the first floor contained a large cupboard housing crockery. In addition, there were eight round spheres (lamps) and eight 20-degree plated domes, two oval lamps and their domes, a round central sphere and its glass cover, decorative elements used for light fixtures, perhaps candelabra. The cupboard also contained two girandoles (branched candlesticks) and six pairs of plated torches. The following 'cabinet' was a bedroom. It contained a wooden bedstead fitted with 'its' mosquito net and a woollen mattress, a marble-topped chest of drawers, a table with drawers and a small toilet box with a mirror.
The same can be said for the room opposite. Finally, one of the 'cabinets' was used as a library.
In the north-east pavilion or outbuilding, the 'cabinet' was simply a bedroom, with its wooden bedstead, mattress and two chamber pots. Such was the case also of the south-east building, without any doubt larger, in any case the better equipped of the two: a wooden bedstead, mattress, a rattan bench with a backrest, a child's mattress, a table with drawers, the small mirrored dressing table, two chairs and an armchair. Two others followed on, fitted out with minimal and heterogeneous furniture: a bench, a mattress, table with drawers, a wardrobe, a bidet and a chair. The north cabinet, however, resembled a store-room, containing two old litters (sedan chairs), a large wooden chest, a large table and its trestles, four cane chairs, a wooden table, 38 Batavia tiles, a porter seat and a child's bed.
The north-east pavilion also contained a bedstead, fitted out with 'its' mosquito-net and a mattress. It had an attic and a bedroom on its eastern side, equipped with its bed and a mattress, a bath tub, a wardrobe and a large chest.
The south-east pavilion, in addition to its two cabinets, had two bedrooms on the ground floor and one upstairs. Each was quite spacious and well-equipped. The ground-floor bedroom had two beds each with a mosquito-net, four mattresses (which were certainly superimposed), two marble-topped bedside tables with wheels, a table, a mirrored dressing-table in a poor condition, a caned sofa, an armchair, a settee and a bidet. In the right-hand bedroom: two beds, each with its own mosquito-net, three mattresses, a desk with pigeonholes, a round gaming table, a table with drawers, a dressing table with mirror, a round table, a cane settee, two cane armchairs and two bedside tables. In the main upstairs bedroom: two beds with their mosquito nets, four mattresses, a bedside table, two cane armchairs, a chair, a rattan (wicker) settee, a marble-topped chest of drawers and a mirror.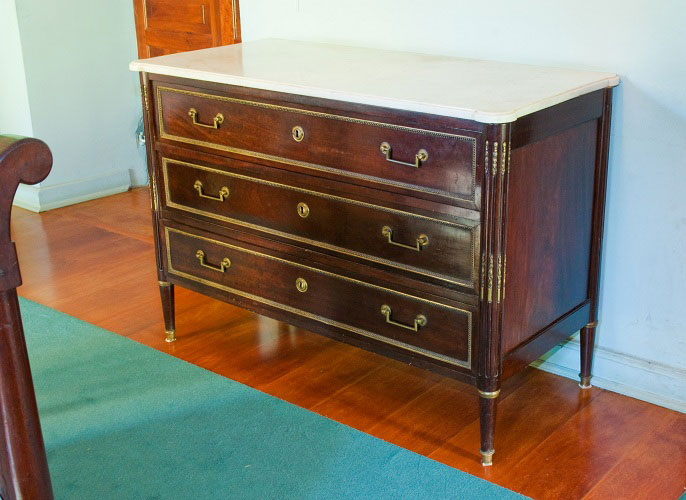 The furniture in the steward's pavilion was scanty and of low quality: eight poor-quality chairs, three armchairs, a small table, another bad-quality table and a desk with drawers.
The bedroom in the pavilion to the south of the main house was a room containing a wardrobe made of local wood, where all the table-linen and house-linen was stocked (tablecloths, napkins, doilies, teacloths, white embroidered blankets, lined Indian blankets, fleeced blankets, sheets, pillowcases, woollen and cotton pillows).
The pavilions were well stocked, equipped for body care, daily hygiene, frequently used and lived in. It is interesting that the only bathtub mentioned was to be found in one of the pavilions, and the same can be said for toilet accessories. In the main house, there was no bidet or other commode chairs . There is no mention of latrines or water closets. This would not have been particularly surprisingly since, though several estates of the period were endowed with them, this was not the general rule. However, this absence can lead us to ask ourselves questions, if only considering the owner's social situation, and that the social status of her guests. Quite simply, does this not reflect the spirit of the period?
The bedrooms in the main house were also spacious and comfortably equipped. In the bedroom adjoining the cabinet, there were two bedsteads, each with its mosquito net, a woollen mattress, an antique marble-topped table, a marble dressing table with mirror, a table with drawers and copper rods, a round night table and a door-stop. Another bedroom was more modest, simply containing a bedstead with its mosquito net and a table. However, in the next bedroom, opening out onto the stairs, there was a bedstead with its mosquito net, a mattress, a table, a large antique wardrobe in which were kept, notably, woollen blankets, original brass-wire dish-covers, bundles of candles, a chandelier and various accessories: a gilded China basket, a glass lamp cover, four clock-glasses and three lamp-stands. Finally, for the upkeep, three brooms and seven scrubbing-brushes for the floors.
The inventory of the objects in the sitting room, also used as a dining room, contained an absolutely surprising number of objects and amount of furniture, a symbol of opulence, plenty and prestige. It was decorated with three guilt-framed mirrors, two marble-topped consoles with copper decorations, a globe and its copper chain, two round tables, one being a gaming table, two small settees, no less than 16 armchairs, 27 chairs and a dining table.
The verandas were used for relaxation. On the veranda on the east side were five rattan settees, as well as an old billiard table, no longer in use. The west veranda had two settees.
The attic of the north-east pavilion contained a surprising and rare object, not the usual pile of metal objects and general bric-a-brac, nor fishing nets, but a walled tent used for sea-bathing, valued at 250 F, revealing an unusual leisure activity for the period. A tin trunk contained money, in coins of 85 F, 5.50 F and 0.50 F, totalling 359.50 Francs.
In a cabinet adjoining the dining room, Madame Desbassayns had installed an imposing library containing at least 1,266 works, mainly 12° and in-octavo format. An attempt to classify the volumes by subject matter:
Philosophy/philosophy of the Enlightenment
Oeuvres complètes (complete works) of Jean-Jacques Rousseau
Oeuvres complètes (complete works) of Voltaire
Pensées philosophiques by Voltaire
Oeuvres by Diderot
Recherches philosophiques sur les Grecs by Pauw
Science/techniques/agriculture
Cours complet d'agriculture, ou dictionnaire universel d'agriculture by l'abbé Rozier

Essai sur l'art de cultiver la canne et d'en extraire le sucre
Précis sur la canne et sur les moyens d'en extraire le sel essentiel by Dutrône
Histoire du galvanisme by Sue
Récréations mathématiques et physiques by Ozanam
Opuscules physiques et chimiques by Lavoisier
Traité élémentaire de physique by Busson
Essai sur l'électricité des corps by l'abbé Nollet
Recherches sur les causes particulières des phénomènes électriques by l'abbé Nollet
Essai sur différentes espèces de gaz by Sigaud de Lafond
Description et usage d'un cabinet de physique expérimental by Sigaud de Lafond
Traité sur la culture et les usages des pommes de terre by Parmentier

Mémoires de la Société d'Agriculture de Seine-et-Oise
History
Dictionnaire historique de la ville de Paris et de ses environs by MM. Hartaut et Magny
Histoire d'Italie by Fantin Desodoard

Dictionnaire historique des femmes célèbres 
Histoire du Bas Empire by Le Beau
Histoire du peuple de Dieu by Berruyer
Histoires choisies de l'Ancien Testament
Histoire générale des conjurations by Dutertre
Histoire impartiale des événements militaires de la guerre d'Amérique
Histoire de la rivalité de la France et de l'Espagne by Gaillard
L'esprit de l'histoire by Ferrand
Histoire de la dernière révolution de Suède by Le Seine Desmaisons

Histoire des révolutions de Suède by l'abbé de Vertot
Révolutions de Portugal by l'abbé de Vertot
Histoire des révolutions de Perse
Histoire des révolutions d'Angleterre by le père d'Orléans
Histoire des chevaliers de Malte by l'abbé de Vertot

Histoire de la décadence et de la chute de l'Empire romain by Gibbon

Histoire des Juifs by Flavius Joseph

Précis historique et expérimental des phénomènes historiques by Sigaud de Lafond

Pièces diverses relatives aux opérations militaires et politiques du général Bonaparte

Traité de géographie ancienne d'après d'Anville

Histoire de l'Empire de Mysore by Michaud

Mémoire pour servir à l'histoire de notre littérature by Palissot

Histoire philosophique et politique by l'abbé Raynal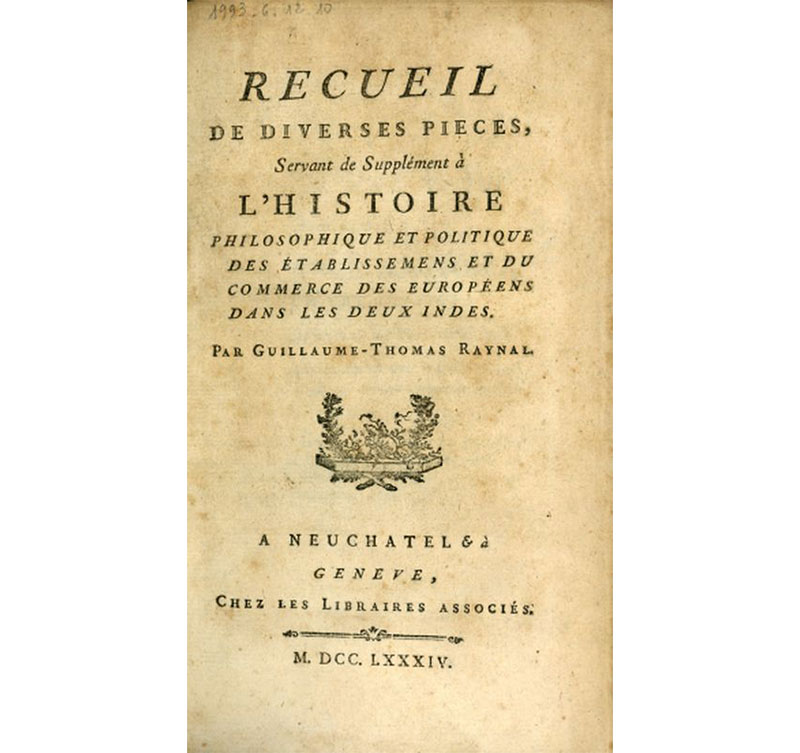 Les vies de hommes illustres de Plutarque translated by Dacien
Notes sur l'histoire des animaux d'Aristote by Camus
Natural history
Dictionnaire raisonné universel d'Histoire naturelle by Valmont-Bomare
Oeuvres complètes (Complete works) of Buffon
Catalogue des arbres de l'Amérique septentrionale by Marshall
Species pantarum by Linné
Geography/travel
Voyage de découvertes à l'océan Pacifique du Nord et autour du monde by Vancouver

Voyages de Pythagore en Égypte
Voyage de la troade by Lechevalier

Description historique et géographique de l'Indoustan by Rennell
Voyage en Grèce

Géographie naturelle by Robert
Géographie moderne by Pinkerton
Voyages dans les Alpes by M. de Saussure

Les nouvelles découvertes des Russes entre l'Asie et l'Amérique by Coxe
Voyages de Richard Pckocke
Voyages en Italie by l'abbé Barthélemy

Voyages dans l'intérieur de l'Afrique by Horneman
Dictionaries
Encyclopédie ou Dictionnaire raisonné des sciences, des arts et des métiers by Diderot et d'Alembert

Dictionnaire universel historique et critique des… par une société de gens de lettres

Dictionnaire de l'Académie française
Dictionnaire grammatical de la langue française by Féraud
Dictionnaire biographique by l'abbé Ladvocat
Law
Causes célèbres by des Essarts
Literature/theatre/philology
Oeuvres by Brantôme
Synonymes français by l'abbé Girard
Les épithètes françaises rangées sous leurs substantifs by Daire

Discours sur l'histoire universelle by Bossuet
Oeuvres complètes (Complete works) of du Bellay
Théâtre d'Aristophane translated by Poinsinet de Sivry
Recueil de lettres by Wilkelmann
Théâtre de Sophocle translated by Rochefort

Odes de Pindare translated by Gin

Traité de la formation mécanique des langues et des principes physiques de l'étymologie
Richardet, poème
Oeuvres de la Harpe (?)
Miscellaneous
Grammaire allemande

L'ami des hommes ou traité de la population

Oeuvres diverses by Pape

Cosmographie élémentaire by Mentelle
Domestic Medicine by William Buchan
Médecine domestique translated by Duplanil from the English text by Buchan 
Constitution des principaux États de l'Eurasie et des États-Unis by de Lacroix

Esprit et génie by l'abbé Raynal
Esprit des richesses
Her tastes were eclectic, with a marked preference for historical works. She possessed no religious works.
The study of the inventory of domestic objects following a person's death may seem to reflect a wish to restrict oneself to a rhetoric of superficiality. The process remains open to criticism through its lapidary nature. In addition, we cannot consider belongings previously distributed. It is interesting to compare Marie Anne Thérèse Ombline Gonneau de Montbrun's last will and testament and the inventory. The former mentions a building used as a prison, a hospital and a kitchen for the African slaves. None of the latter retained the attention of any of the persons concerned with drawing up the inventory. The kitchen visited was the 'stone-built master's kitchen', as mentioned in the will. None of the habitations of the slaves are mentioned, either in the testament or in the inventory. The owners placed no importance on these. Such a selective omission is not a sign of negligence, but is revealing. As was the customary at the time, two years before slavery was abolished, anything connected to the servile workforce was the object of denial.
In the will, the slaves were only appreciated as a workforce. The sugar factory was not one of the objects of the visit. The figure of the mistress of the estate remains alive in the collective memory of Reunion, and she is remembered as being one of the biggest slave owners. Her estate was organised like those of the other owners, and like the other wealthy inhabitants of the island, she possessed ostentatious objects and books in large numbers. A study of the estate 'from cellar to attic' enables us to obtain a more precise vision of the house, the intimate lifestyle and the day-to-day way of life.
The minutes of the auction of her furniture and other possessions, drawn up at the request of her heirs, partially complete the inventory. A certain amount of furniture was, notably, sold in Saint-Gilles: four wardrobes, 13 sofas, three chests of drawers, some tables, bedside tables etc., two carriages, two sedan chairs and one billiard table are mentioned. As regards hygiene and cleanliness: a bathtub, a bidet, 16 chamber pots, toilets or toilet-tables. The household linen sold in Saint-Gilles included a large number of elements.
[1] Departmental archives of Reunion, 3 E 426.
[2] Departmental archives of Reunion, 10th May 1846, 3 E 426.
[3] Bandège: Indo-Portuguese term used to denote a multi-purpose bowl or basin.
[4] Girandole: candlestick with several branches.
[5] Hachardiers. Unidentified term. Used for serving 'achards', a local salad or chutney prepared with chopped vegetables in a spicy sauce?
[6] Copper coffee pots, inexpensive and reputed, originally imported from Constantinople. A type of pot also referred to as 'marabout'.
[7] Gargoulettes: Large vessel composed of two linked large-handled vases, used for cooling water.
[8] Potiches: Large vessel containing several bottles.
[9] With the exception of the forks used for cutting up, enumerated in the section on 'silverware'.
[10] François Nion, estate bailiff, Cf the 1842 census of Madame Desbassayns, Departmental archives of Reunion, 6 M 679
[11] Instrument used for topographical surveys.
[12] Barbots: Large jar or vase containing bottles.
[13] Rattan or cane.
[14] In the main house in Saint-Paul, there is mention of a bidet, 4 chamber-pots and a bidet with its porcelain basin.

+ Show
— Hide